We deliver throughout the Nordic region
Purchases over 10,000 in the online store give free shipping in Norway

We help corporate, public and private customers

Get in touch and we'll help you
Å besøke et museum gir nye inntrykk og opplevelser. Ofte sanseinntrykk og noen ganger med en talende guide. Da er det viktig med god lyddemping så opplevelsen blir optimal. Oppsøker du et bibliotek er det klart du vil ha stillhet og ro for å mest mulig ut av oppholdet. Gjerne i en egen stille sone, så du kan "gjemme" deg litt vekk.
"We are thrilled. During the day today there was only positive feedback and everyone agrees that the improvement is huge. I give you my wholehearted recommendation!"
Edvard Grieg Museum Troldhaugen v/ Thomas Heimstad
"Arbeidet er flott utført. Lydabsorbentene gir den ønskede effekten på akustikken, og glir samtidig naturlig inn i den gamle maskinhallen. Det har vært en enorm forbedring. Prosessen og samarbeidet har vært lærerik og god."
Thomas Kittilsen Zandjani, leder for administrasjon og eiendom. Labro Kraftstasjon
There are regulations that govern the sound in all commercial buildings, including specific regulations for specific rooms. We know that it can take a while to realize that problems are caused by poor acoustics. You can do a simple calculation yourself or we can help you calculate your needs, suggest solutions and the right products.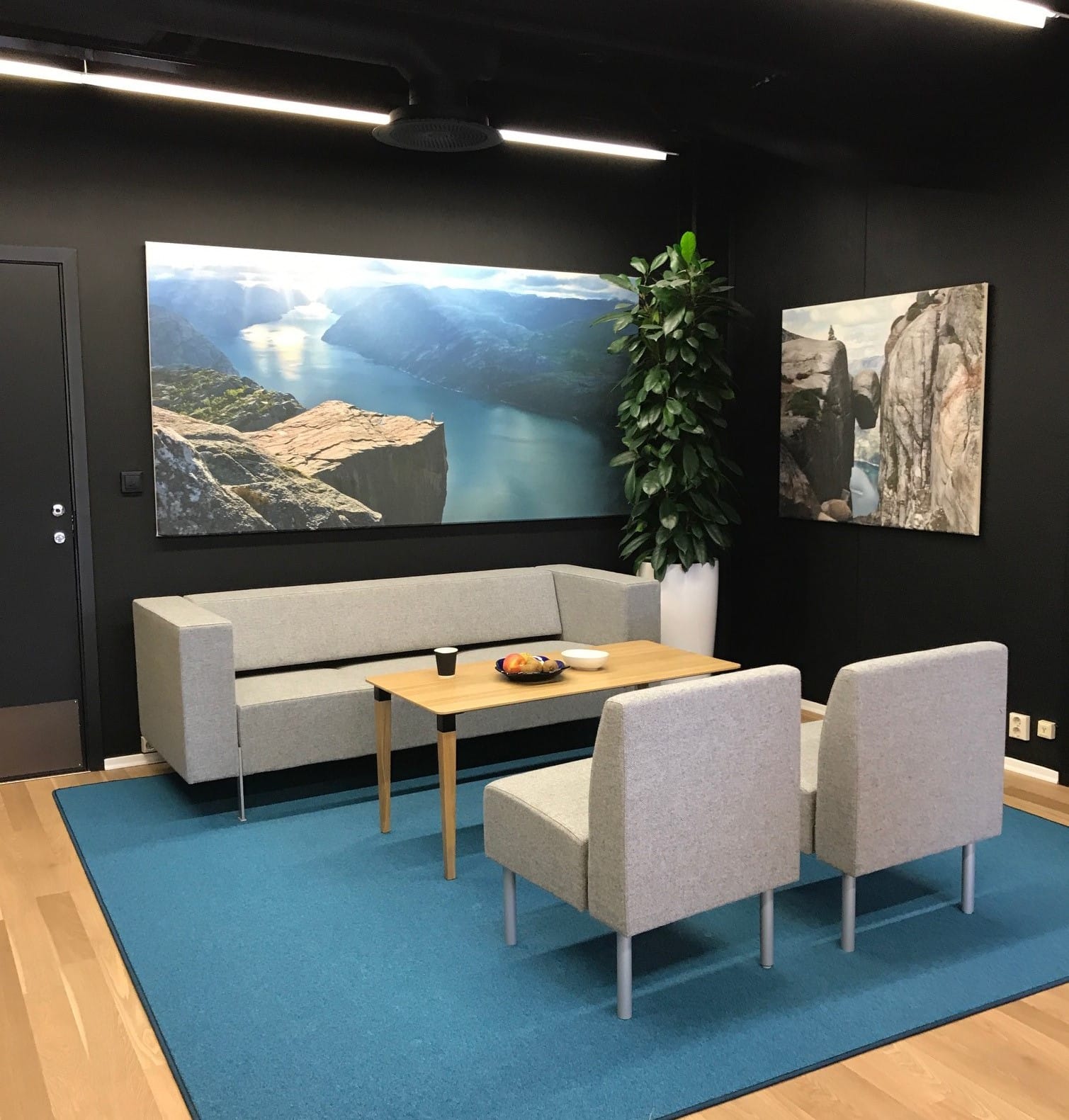 Acoustic images: Sound damping plates with
If you want to have sound-damping images or decor on the walls, our acoustic panels are very suitable for this. 
In addition to a great printed image/decor result, you get very high quality absorbers that become part of the overall sound control in the room.
Specialist center for sound control
We are Norway's only specialist center for sound control that has developed a system for measuring and mapping, calculating how much you need, through to a completed and control-measured solution.
All our calculations and measurements are based on the standard NS8175:2019 - Sound in buildings and NS8178:2014 (music and rehearsal rooms). Note that the standard from 2012 still applies according to the building regulations, TEK 17. Soundproofing products recommended will be in accordance with CE 13964:2014 or equivalent.
We can help you with all your acoustic solutions as we have our own production facilities. Get in touch and we'll find a solution for your specific needs.