Loke™ Ceiling tile 15mm sound absorbing
kr 265,00 - kr 318,00 per m² incl. VAT
Extremely good sound absorption. Sound attenuation, class A. 15 mm absorber for system ceiling for optimal acoustic solution. The product has excellent sound absorption and light reflection properties
Description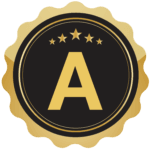 Produktet har den tradisjonelle strukturen i overflaten som er karakteristisk for glassullhimlinger.
Produktet har utmerkede lydabsorbsjons- og lysrefleksjonsegenskaper. Derfor er produktet godt egnet for bruk i kontormiljøer, læringsmiljøer, barnehager og rom med svært støyende omgivelser. Kommer i forskjellige formater og kantutforming. Platen har en coating/belegg på overflaten som gjør den lettere å vedlikeholde samt gir den lang levetid i forhold til mer tradisjonelle absorbenter i markedet.
Sound absorber. A+E edge.
E edge is an accessory.
For larger orders, ask for a quote.
Farge. Nærmeste fargekode er NCS S0502-Y. Lysrefleksjon er 83%. Platene fås i kantutforming A og E. Spesialfarger kan bestilles (minimum kvantum er 100 m2)
Fire class. A2-s1,d0, according to EN 13501-1
The product is M1 certified. This means that the product has been tested and meets the strictest international requirements for emissions and non-use of toxic components. There are specific requirements for acoustic products that must be met to obtain M1 certification.
EPD (Environmental Product Declaration). The product has completed the LCA (Life Cycle Assessment) report and received the EPD (Environmental Product Declaration) certificate.
Cleaning and maintenance. The panel has a surface that allows dusting, vacuuming and careful washing with a slightly damp cloth. If the panel is painted over, it will lose its properties.
Datablad og dokumentasjon
Norsk:
Dansk:
Acoustics
Platen er klassifisert som klasse A.
Absorbsjonstesten er foretatt ihht ISO 354. Absorbsjonskoeffisienten (αw) er beregnet til 0,95 i henhold til ISO 11654.
Installation
For installation, it is necessary to use a HIMLING SYSTEM.