We deliver throughout the Nordic region
Purchases over 10,000 in the online store give free shipping in Norway

We help corporate, public and private customers

Get in touch and we'll help you
Soundproofing provides a much better indoor environment
Are you experiencing noise in your home, struggling with loud sounds and reverberation/echo? We have perhaps the most effective sound absorbers on the market for use in all types of buildings, including private homes.
"The installers have finished with us. The work looks good and the effect on the acoustics is great. It's almost like getting a new living room!
Private customer, Stavanger
Now all the furniture and such is back in its usual place. The difference is huge. I want to thank you for all the help we have received. This was really good!
There is a clear difference in the noise level even though we did not take all the plates in the living room. Especially the sound in the hallway and toilet on the 1st and 3rd floor is completely different; it is possible to go to the toilet without worrying about reverberation throughout the house. Thank you for your good and efficient help
We know that many people experience acoustic problems without knowing how to solve them. Most people who have problems with noise and reverberation simply need to install a number of "absorbers", i.e. panels that absorb the sound waves in the room. They are normally installed either in the ceiling or on the wall. See examples.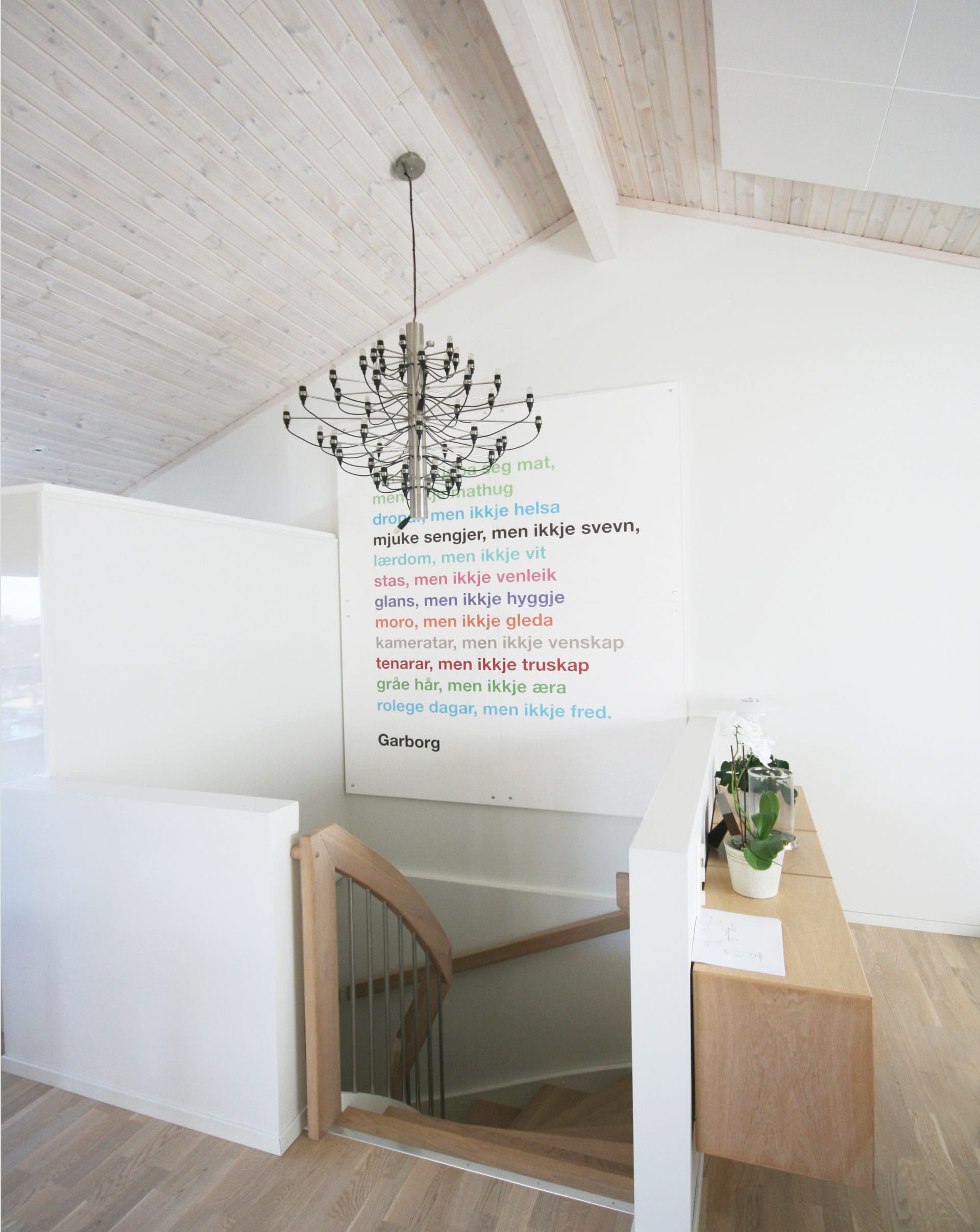 Acoustic images: Sound damping plates with
If you want to have sound-damping images or decor on the walls, our acoustic panels are very suitable for this. 
In addition to a great printed image/decor result, you get very high quality absorbers that become part of the overall sound control in the room.
Specialist center for sound control
We are Norway's only specialist center for sound control that has developed a system for measuring and mapping, calculating how much you need, through to a completed and control-measured solution.
All our calculations and measurements are based on the standard NS8175:2019 - Sound in buildings and NS8178:2014 (music and rehearsal rooms). Note that the standard from 2012 still applies according to the building regulations, TEK 17. Soundproofing products recommended will be in accordance with CE 13964:2014 or equivalent.
We can help you with all your acoustic solutions as we have our own production facilities. Get in touch and we'll find a solution for your specific needs.