Sports halls, swimming pools and fitness centers

We deliver throughout the Nordic region
Purchases over 10,000 in the online store give free shipping in Norway

We help corporate, public and private customers

Get in touch and we'll help you
Vi bruker mye tid i idrettshaller, svømmehaller og treningssenter. Barn og unge samles ofte mange på samme tid. Dermed ligger forholdene fort til rette for ekstrem støy som medfører høy risiko for permanente hørselsskader. I treningssentre er der ofte høye smell fra vekter og musikk.
Dårlig lyddemping i slike arealer medfører direkte skadelige lydforhold og kan føre til permanente skader på hørselen. Tapt hørsel kommer ikke tilbake.
De akustiske forholdene i alle former for idrettshaller, svømmehaller og andre treningslokaler er underlagt NS8175:2012/2019 som inngår i TEK 10/17.
Der er regler for støynivå fra tekniske installasjoner og etterklangstid i slike arealer. I tillegg må det også tas hensyn til arbeidstilsynets retningslinjer for maksimalt støynivå når arealene er i bruk. Vi opplever ofte at akustikken i denne typen arealer er svært dårlig og regelverket er ikke fulgt.
Politihøgskolen har benyttet Norsk Akustikksenter ved flere anledninger de siste to årene og er veldig tilfreds med resultatet. Målinger ble gjort i forkant, og da bestillingene ble sendt så ble arbeidet gjennomført meget raskt. Vi opplever Norsk Akustikksenter som en kompetanserik, profesjonell og seriøs leverandør!
Oslo Police University College
Resultatet er bra akustikk i hallen, effektiv og god lyddemping, absorbenter som tåler en trøkk og samtidig ser det flott ut. Det blir fint å snart kunne samle alle de flotta folka til aktiviteter og gode opplevelser.
Ingvill Bentsen, prosjektleder
Akustikk har vært en utfordring for oss siden Storhall Karmøy ble bygget, og monteringen av lydabsorbenter har medført at våre kunder og ansatte har fått en ny og bedre hverdag
Ånen Torvestad, daglig leder, Storhall Karmøy AS
Vi vet at mange opplever akustikk problemer, men uten å vite til hvordan dette løses. De fleste som har problemer med støy og etterklang trenger å montere en del «absorbenter» dvs plater som absorberer lydbølgene i rommet. De monteres normalt enten i taket eller på veggen.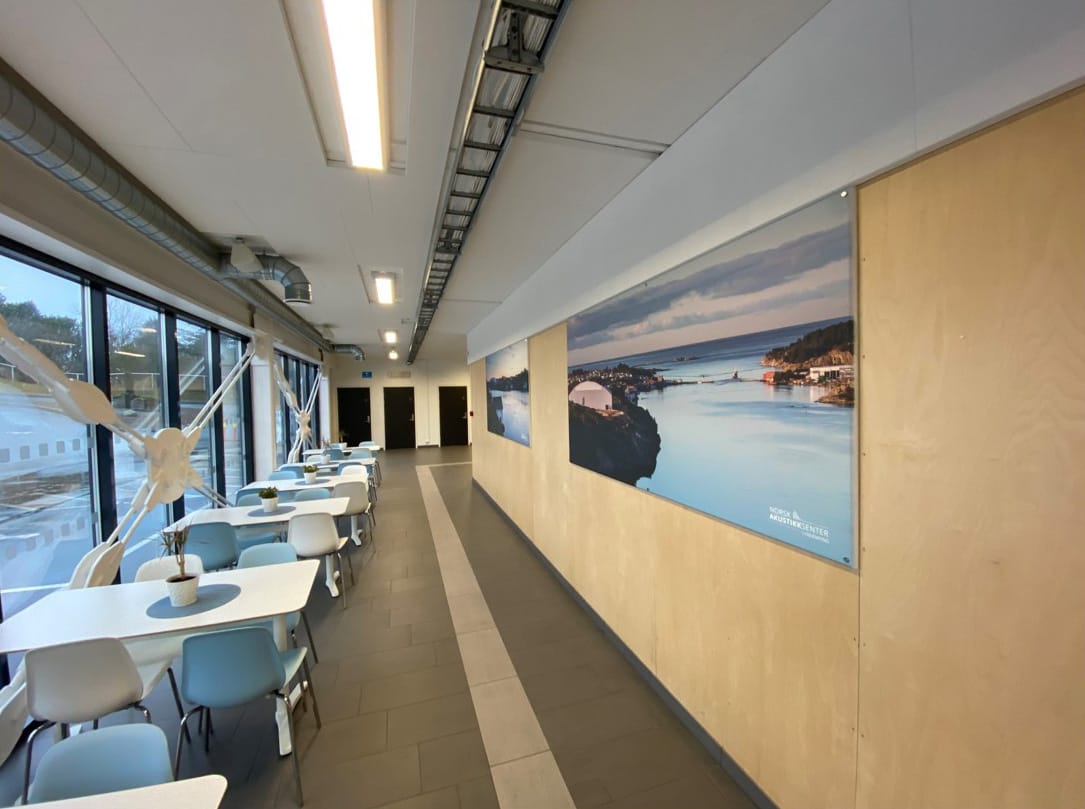 Acoustic images: Sound damping plates with
If you want to have sound-damping images or decor on the walls, our acoustic panels are very suitable for this. 
In addition to a great printed image/decor result, you get very high quality absorbers that become part of the overall sound control in the room.
Specialist center for sound control
We are Norway's only specialist center for sound control that has developed a system for measuring and mapping, calculating how much you need, through to a completed and control-measured solution.
All our calculations and measurements are based on the standard NS8175:2019 - Sound in buildings and NS8178:2014 (music and rehearsal rooms). Note that the standard from 2012 still applies according to the building regulations, TEK 17. Soundproofing products recommended will be in accordance with CE 13964:2014 or equivalent.
We can help you with all your acoustic solutions as we have our own production facilities. Get in touch and we'll find a solution for your specific needs.