Office, meeting rooms and canteen

We deliver throughout the Nordic region
Purchases over 10,000 in the online store give free shipping in Norway

We help corporate, public and private customers

Get in touch and we'll help you
The workplace is where most of us spend large parts of the day, and a poor sound environment in the workplace is a major burden. Good acoustics are therefore crucial for better working conditions, especially in open spaces, meeting rooms and canteens.
''Thank you again for a great collaboration, and an excellent result; both with how the walls looked and the effect of the products you recommended''
David Skjærpe, Paper airplane
"I'm very pleased! The acoustic images turned out very well and the effect of the damping was beyond my expectations.
Aleksander Breivik, Flow-Teknikk as
I just say fuck it!
We have found that before we attach anything to the demo room, we MUST make a before and after video!
Huge difference just after unpacking two packages
Per Øystein Berglund, PM Audio/Video, CBK Distribusjon AS
WOW! Yes, this was awesome! The lunch room is ready 😊
Firstly, I would like to thank you on our behalf for how professionally and calmly the installers worked. The job is done, and we got a nicer switchboard, where everyone is still bragging about how comfortable the sound is. Now we can really have a good time at work
Roy, duty commander at the 110 control center. Fire and Rescue Service. Oslo
Research has shown that a poor sound environment in open-plan offices leads to 30% lower productivity, less satisfied employees, more stress and sick leave.
(Source: Opinion piece in Universitetsavisa NTNU by Jan Vilhelm Bakke and Knut Inge Fostervold. Read more)
There are regulations that govern the sound in all commercial buildings, including specific regulations for specific rooms. We know that it can take a while to realize that problems are caused by poor acoustics. You can do a simple calculation yourself or we can help you calculate your needs, suggest solutions and the right products.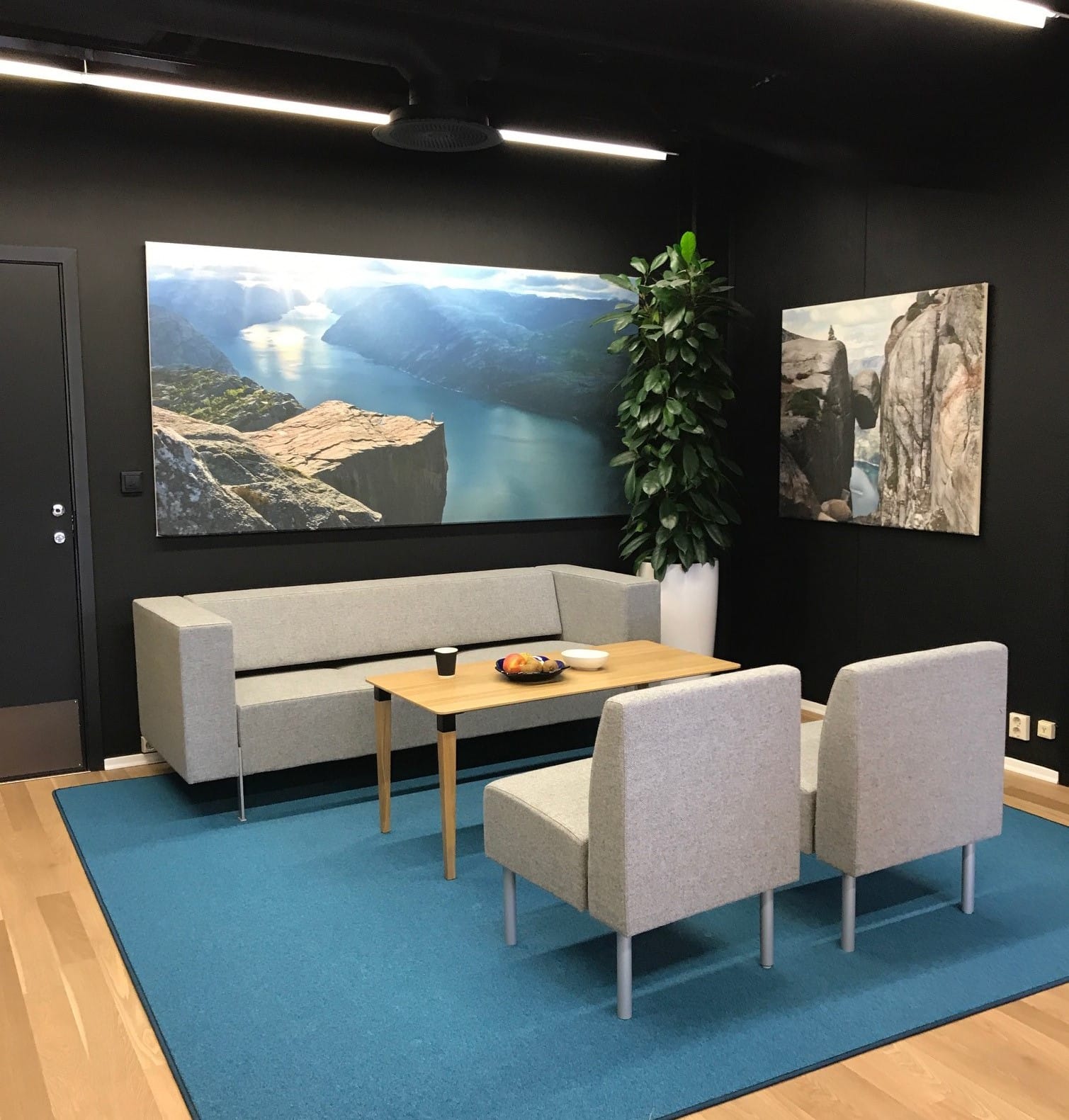 Acoustic images: Sound damping plates with
If you want to have sound-damping images or decor on the walls, our acoustic panels are very suitable for this. 
In addition to a great printed image/decor result, you get very high quality absorbers that become part of the overall sound control in the room.
Specialist center for sound control
We are Norway's only specialist center for sound control that has developed a system for measuring and mapping, calculating how much you need, through to a completed and control-measured solution.
All our calculations and measurements are based on the standard NS8175:2019 - Sound in buildings and NS8178:2014 (music and rehearsal rooms). Note that the standard from 2012 still applies according to the building regulations, TEK 17. Soundproofing products recommended will be in accordance with CE 13964:2014 or equivalent.
We can help you with all your acoustic solutions as we have our own production facilities. Get in touch and we'll find a solution for your specific needs.