We help you through the entire process, from A to Z.
Norsk Akustikkenter offers sound control solutions that create a good and effective acoustic environment in accordance with the Norwegian Standard.
The basis for achieving an optimal sound control result is to measure and calculate the acoustics in the building. Then calculate what needs to be done to bring the area into compliance with current regulations and/or their requirements. We start by calculating the acoustics in the room. You receive a report with calculations, recommended and customized solutions and cost estimates. Together we agree on the type of measures and we send you the goods. You can carry out the installation yourself (you will receive guidance from us) or we can arrange professional installers at an agreed price.
We are perhaps Norway's only specialist center for sound control that has developed a system for measuring and mapping, through to a completed and verified solution.
We are happy to look for a total solution and offer the right product for your problem.
Quality products adapted to the Nordic market
Our products are among the very best on the market and are developed for and adapted to the Nordic market.
The products have been developed over many years through continuous improvement and testing both in laboratories and in the "field", and we have complete documentation for the effect as well as a large number of versatile references. All products are CE certified, which you can read more about here.
We have products for most types of buildings and sound challenges, and can supply special products in custom sizes, shapes and colors. Our focus is on the highest possible quality of our products and services.
Quality at every stage
The products are primarily manufactured with the aim of providing the best possible absorption of sound waves in the entire hertz spectrum. Secondly, they are equipped with surfaces that are well suited for decoration with print without significantly impairing the sound absorption properties. The best results are achieved by using UV printers. Other printing methods tend to saturate the surface too much and thus degrade the properties of the board.
Laboratory tests confirm that the sound-absorbing products are in the sound classes we want them to be in. For example, some in sound class A and others in sound class B. W e do not manufacture products in sound classes lower than B.
Our products in sound class A have an absorption coefficient (NRC) of 0.9 to 1.0. This is in accordance with the current EN-ISO standard for both sound absorption and testing.
Our products in sound class B can achieve sound class A by adding a minimum of 50 mm of air behind the panel. This is done to give the panels a wider range of applications.
The effectiveness of the panels means that the same sound reduction is achieved with fewer panels compared to most other solutions on the market.
Read more about knowledge and quality here.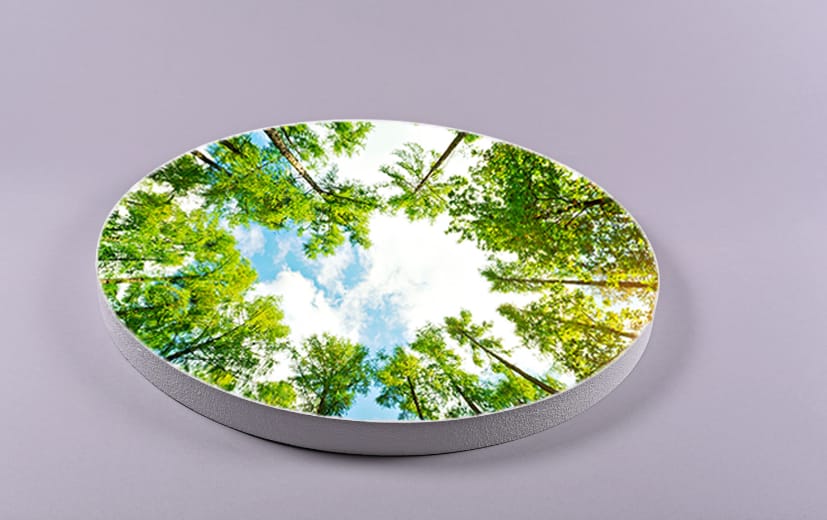 Printed acoustic panel with good sound absorption
How much does it take?
It is entirely possible to measure a room and then use the data to determine fairly accurately how many square meters of sound-absorbing surface area are needed to achieve a desired result. This is science and quite complex.
A simpler approach is probably more practical in most cases. Start by putting up sound panels where it is obvious that the sound is bothersome. Place the panels as close to the noise sources as possible. And put up panels where there are a lot of hard reflective surfaces.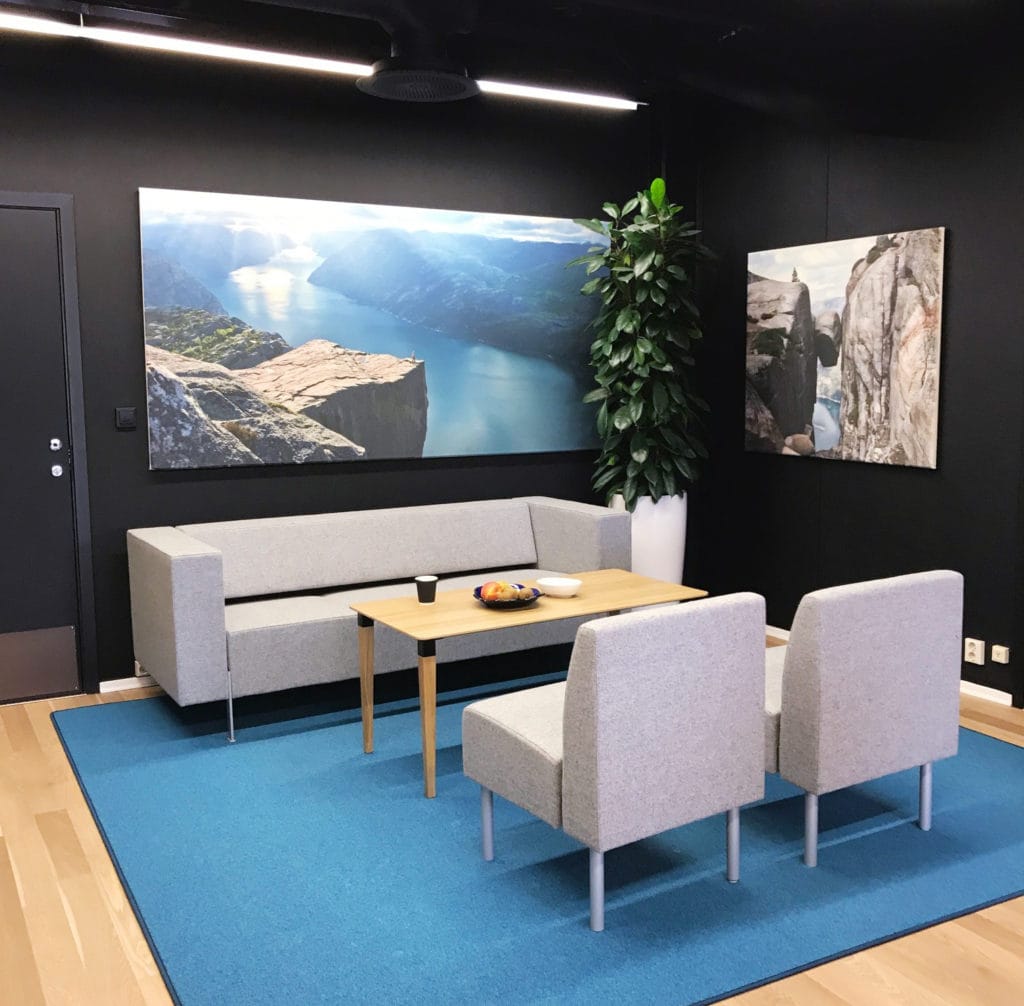 Hard surfaces vs soft surfaces, find the balance
Where there are a lot of hard and compact surfaces, sounds will be reflected and bounced around for a long time before dying out. The more sound is created in the room by voices, music or machines, the harder it will be for your hearing to sort new sounds from old echoes. It quickly develops into a chaos of noise that makes conversation and listening almost impossible. For many, the room becomes hopeless to stay in.
Where there are a lot of soft, porous and absorbent surfaces, sounds will die out almost immediately and not mix with new sounds. This is because there are no echoes in the room and the sounds therefore die out as quickly as when we stand in the forest and talk together. It is then possible to hold conversations, sing, play music and preferably all at once without it being chaotic, noisy and annoying.
Achieve natural sound
It therefore matters a lot how we decorate our homes. If there is a lot of glass, hard walls, hard floors and hard ceilings, we have to compensate for this by surrounding ourselves with enough porous absorbent surfaces and "things" to create a natural balance. The natural balance can be found in nature. You have to experiment to get it right. Good tools for achieving good sound absorption are textile-covered furniture, soft carpets, rich curtains, plants, books in bookcases and, of course, sound-absorbing panels on the walls and ceiling.